Insitu Pacific readies advanced autonomous technology for real-world trials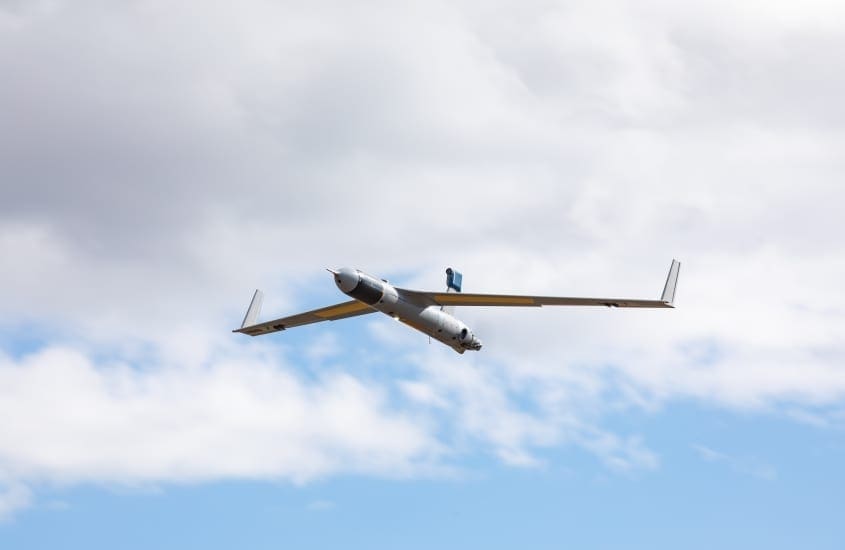 Brisbane, Australia, April 1, 2021 – Insitu Pacific and Boeing [NYSE: BA] Australia's Detect and Avoid (DAA) capability is now ready to field in real-world operations after test flights demonstrated enhanced detection ranges between an unmanned aircraft system (UAS) and other airspace users. The technology is designed to advance the ability to safely integrate UAS into different classes of airspace.
The Australian-designed and built, vision-based technology can detect other aircraft at distances that are beyond the requirements for safe avoidance and are a vast improvement on the capabilities of the human eye.
Andrew Duggan, managing director, Insitu Pacific said the latest trials had achieved a range of more than one nautical mile and were a culmination of over five years' development in Queensland.
"The flights demonstrated the value this technology brings to advancing airspace integration across all classes of airspace, and to deliver superior information to better support operators achieve safe separation between small unmanned aircraft and general aviation aircraft," Duggan said.
During the tests held in Coominya, Queensland, the Insitu-built ScanEagle was fitted with a vision-based DAA solution paired with an advanced onboard processing system. Detection of another aircraft was immediately relayed to the Unmanned Aircraft System (UAS) pilot, which can support decision-making on flights within non-segregated Class G airspace.
Brendan Williams, Associate Technical Fellow, Airspace Integration at Boeing Australia said the recent tests with fixed wing general aviation aircraft and small utility helicopters achieved detection ranges that provide more than sufficient notice to alert the UAS operator to enact a successful avoidance manoeuvre, if required.
"We have a multi-layered safety case approach for airspace integration risk management, and the DAA technology complements our existing airspace management tools to identify and mitigate hazards," Williams said. "It will also provide additional assurance to both the regulator and customers that the UAS can provide detection of aircraft that are not equipped with transponders, and allow the UAS to be commanded to take avoiding action without other aircraft needing to take any action themselves."
This technology offers new options for Australian Defence Force UAS operators and supports Australia's sovereign capabilities goal.
"While Insitu Pacific regularly conducts beyond visual line of sight flights with Civil Aviation Safety Authority (CASA) approval in uncontrolled airspace, the DAA technology will help open up increasingly flexible access to that airspace," Duggan said. "This will enable the ADF maximum flexibility to operate UAS in support of national emergencies such as bushfires and floods, as well as significantly increasing their capability in border protection and security missions in Australian airspace."
As part of Insitu Pacific's and Boeing's commitment to Australian capability development, DAA research has been a collaboration with researchers from the Queensland University of Technology (QUT). A critical partner in the multi-year development of this capability, QUT undertook the bulk of the initial algorithm development to ensure the payload functions effectively.
About Insitu Pacific
Located in Brisbane, Australia Insitu Pacific was established in 2009 as a division of Insitu Inc and serves defence customers across the Asia-Pacific region and global commercial customers. We utilise expert in-house knowledge and skills to deliver trusted and proven unmanned aerial systems and end-to-end solutions for collecting, processing and managing sensor data. To date, Insitu systems have accumulated more than 1.3 million flight hours. Insitu Pacific is a wholly owned subsidiary of The Boeing Company.
Media Contact
Rebecca Kind
Insitu Pacific Media Relations
+61 481 005 298
rebecca.kind@insitupacific.com
https://insitupacific.com.au/wp-content/uploads/Detect-and-Avoid-flight-testing-with-Insitu-Pacifics-ScanEagle-Coominya-Queensland-scaled.jpg
1707
2560
Rebecca Kind
https://insitupacific.com.au/wp-content/uploads/insitu-pacific-logo-1500x630.png
Rebecca Kind
2021-04-01 13:30:00
2021-06-01 09:21:28
Insitu Pacific readies advanced autonomous technology for real-world trials